Hello,
I've been playing with a technique for making realistic weld seams. Being a welder by trade, sorta, I'm taking what I know about the welding process and applying some of that here.
The technique is actual welding to my mind. Only the materials are different. Key to my technique is Testors Model Master Liquid Cement For Plastic Models. This stuff literally melts styrene. I'm sure you've all had a dimple or dent develop in a piece of thin sheet styrene from using it. It makes a tremendous bond between 2 pieces of styrene, but dries somewhat slowly.
The lag in cure time and the melting effect is what I use to my advantage for this technique. Now, I am admittedly still perfecting this, but I'm starting to get it nailed down.
The biggest drawbacks that I can see are that it can be messy; it requires a very steady hand, but globs and spills of cement can be sanded away once cured. The other drawback is that it isnt as immediate as a putty weld, and is more labor intensive.
The upsides are an extremely realistic weld seam, and the fact that the 2 pieces are literally welded together.
I start by laying a bead of the cement down the seam between the 2 pieces of plastic. You dont want too much cement, but you need enough to melt the styrene, so a "dry" application isnt enough. This is the main part of the process I'm still drying to perfect. The needle applicator that the Testors cement comes with works well, but something with a smaller ID would be better and allow more control.
Next, if the seam is wide or I want a "cobbier" looking weld, like something you might see on a Russian vehicle, I'll add a length of styrene rod. Strip may work also, but rod already has the correct profile.
I'll usually also run a bead of cement along the top edge of the styrene rod too, to help melt it.
Now you wait. How long is yet to be determined, but I've let it set for anywhere from 5-20 minutes. At 5 minutes things may be a bit too goopy to work with. At 20 or longer you'll be able to feel things getting harder.
At this point I take my hobby knife (#11 blade), preferably one that has just a slight amount of the tip broken off, like the very end 1/64th or so. You may find another tool works better. I've used the tip of my hemostat, or the end of a very small straight-end screwdriver. Now is when you actually weld. I use different motions to achieve the weld bead, but usually I've found that giving a firm push into the seam area with your tool, then moving back a milimeter, giving another firm push to shove material into the slight hole you created with the previous push, and so on seems to give the best looking weld. Alot depends on how melted the styrene is. When done you may have very small pinholes between the overlapping folds of weld, but these can be fixed with a little paint thinner to re-melt the weld, or will fill with paint when the model is primed.
Once it's cured it can be sanded to provide a ground-out look, or sanded off all together if it's not the right look.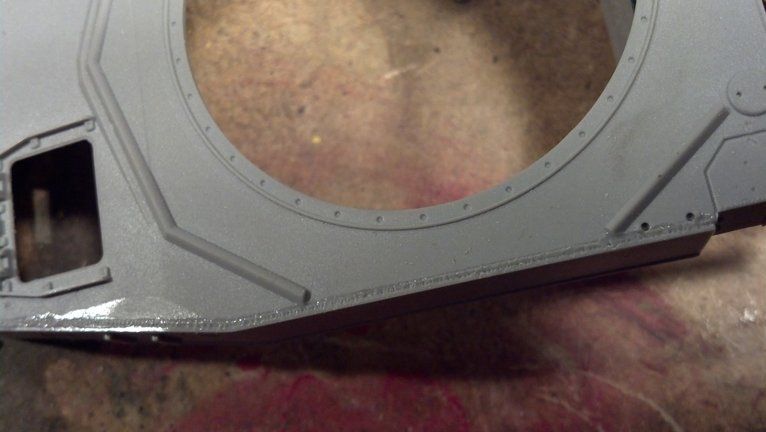 As I said, I'm still working on this, but I think it holds promise as a solid technique.