Hello friends,
It´s high time for the SMC 2015 Summer update.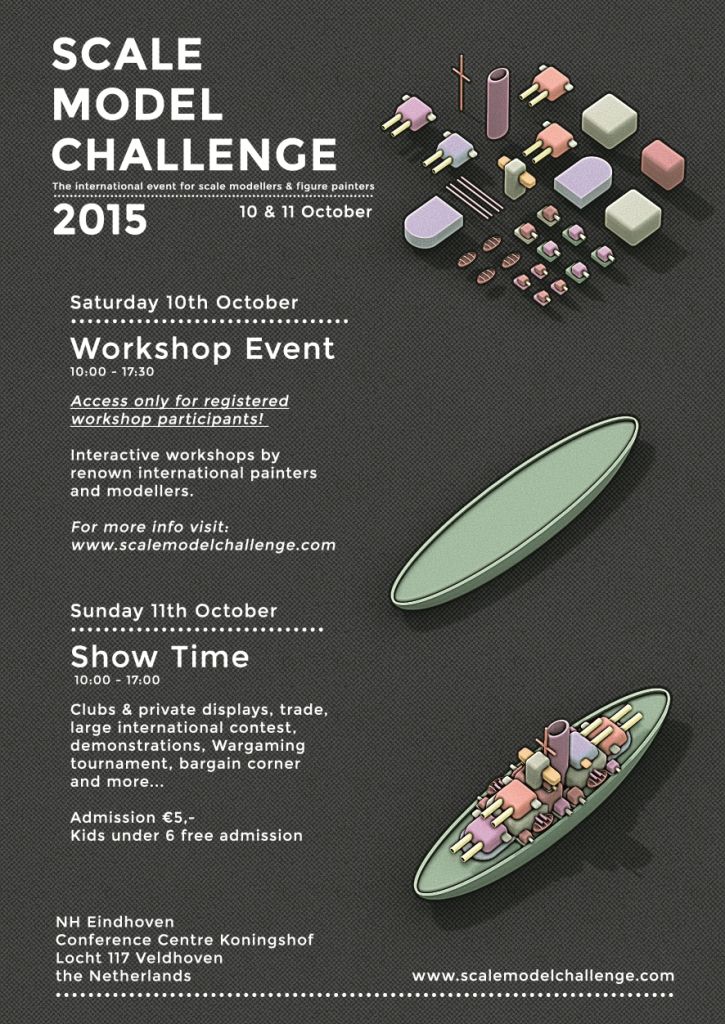 The online pre-registration for the SMC contest is open.
26 classes divided over several categories and levels, so there are opportunities for everyone.
The pre-registration closes on October 5 and until then you can make any change necessary, e.g. add or delete a model. After this date the next opportunity to register is at the show on October 11.
There are a number of good reasons to pre-register:
• Save 50% on the registration fee per model.
• Have more time to spend at the show as you will avoid possible delays at the registration terminals.
• There´s a separate ` fast lane` registration desk for pre-registrations .
SMC has grown against our own expectations: 6.500 square meters with over 100 vendors, over 50 clubs and an enlarged contest area offer a lot of great modelling and figure painting to our visitors.
On Saturday, 10th October we have a separate Seminar Event with various workshops by renowned and talented modellers and figure painters/-sculptors.
There are still seats left for some of the seminars, but others are already sold out.
ATTENTION: there is no show on October 10, and the SMC Seminar Saturday Event is only open to registered participants!
As always we organize a buffet dinner on Saturday evening. Everybody is most welcome to join but in order to prevent you from having to scrape the remainders from the plates we urge you to let us know you will be present.
On Sunday evening we wrap things up with another buffet dinner, for which you also need to register.
The NH hotel is situated in the same location as the venue, and you can make your hotel reservations via our website.
All details about the above and much more information can be found on the SMC website:
http://www.scalemodelchallenge.com
We welcome you to SMC 2015!